NUX B-7PSM
5.8 GHz Wireless In-Ear Monitoring System
CUT THE CORD. BE IN COMMAND!
The NUX B-7PSM is a wireless personal in-ear monitor system with automatic RF environment scan, 5.8GHz interference-free broadcasting frequency, and 24-bit / 40 kHz high-quality STEREO audio transmitting.
From any position. On any stage. Hear every note in detail with NUX B-7PSM in-ear monitoring system.
It quickly finds a clean wireless channel and automatically assigns it. The B-7PSM offers a super low latency of less than 5.5ms and has an operation range of 100 feet (30m) when unobstructed between the Receiver (RX) and Transmitter (TX). (The operation range is around 32 feet (10m) when obstructed). It's a super light-weight wireless, mini-compact system designed to clip on & go. The TX features a 1/8" TRS plug (you can use the included adaptor to convert to 1/4"), broadcaster-grade audio via 5.8GHz digital transmission to the compact RX. The RX's clip design can easily fit to your shirt, belt, or guitar strap. And, with our newest automatic frequency hopping technology, B-7PSM is reliable and stable while you perform on stage.
Note: When coupling multiple B-7PSM systems, please turn on 1 set first, pair it, and then turn on the other sets sequentially.
Note: For best results the TX should be at least 1 meter above the ground, 2 meters away from Wi-Fi routers and wall or metal surfaces to minimize reflections.
The user-friendly matching system makes it easy to use, just turn ON both wireless units (TX & RX), then it will be paired within a couple of seconds. Each wireless set has a unique pairing algorithm, it automatically detects each other and configures their own IDs. The signal never interferes with any other wireless including the WiFi* signal.
*Recommended: Please stay 2 meters (6 feet) away from the Wifi router for the best results.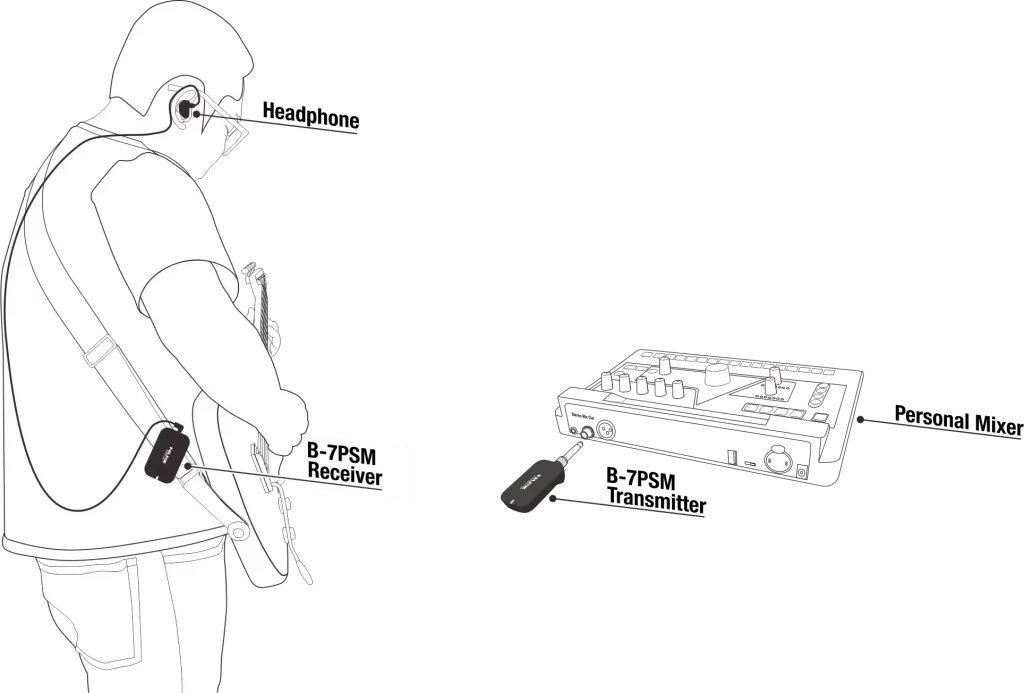 A Loud Stereo Phone Preamp.
Plug in the TX to a live or personal mixer and turn on the TX (LED indicator will show GREEN.) Then connect your in-ear buds with the RX, turn on the RX to pair with the TX. The LED indicator will be solid GREEN. Now it's ready to go.
Caution : Do not put the in-ear buds in your ears before you start to adjust the volume, it may hurt your ears if the volume is too loud.
You can adjust the RX volume in 0.5db increments with the + and – buttons. The maximum volume is 0dB, and the minimum is -64dB. Holding down the + or – button can increase or decrease the volume quickly.
The B-7PSM offers STEREO audio transmission, so it's perfect to work with professional personal mixers to pan the tracks as you want on stage during rehearsals and live performances. The B-7PSM features premium sound quality with a 92dBA dynamic range and 20~19K Hz frequency response.
Note: Short press the power button of the RX to return to the default volume setting. It may be too loud if the in-ear buds are very sensitive. Please turn down the mixer's volume and increase it carefully.
Note: We recommend you use headphones or in-ear buds with a 16~32 Ω impedance for the best experience.
Note: B-7PSM is designed for band rehearsals and live performances, prioritizing the best possible STEREO experience. You'll enjoy the product and the experience it provides, while it may not be suitable for personal silent practice.
While the B-7PSM is a STEREO IEM solution, you can use it in a mono environment as well if needed. Simply use a 1/4″ MONO to 1/8″ STEREO adapter (to split the mono signal from a 1/4″ Output into both channels of B-7PSM's 1/8″ Stereo Input), then you can get a mono signal that can be heard in both the left and right channels.
Caution: Please consult the seller of your adaptor before making the connection, in order to avoid any device damage.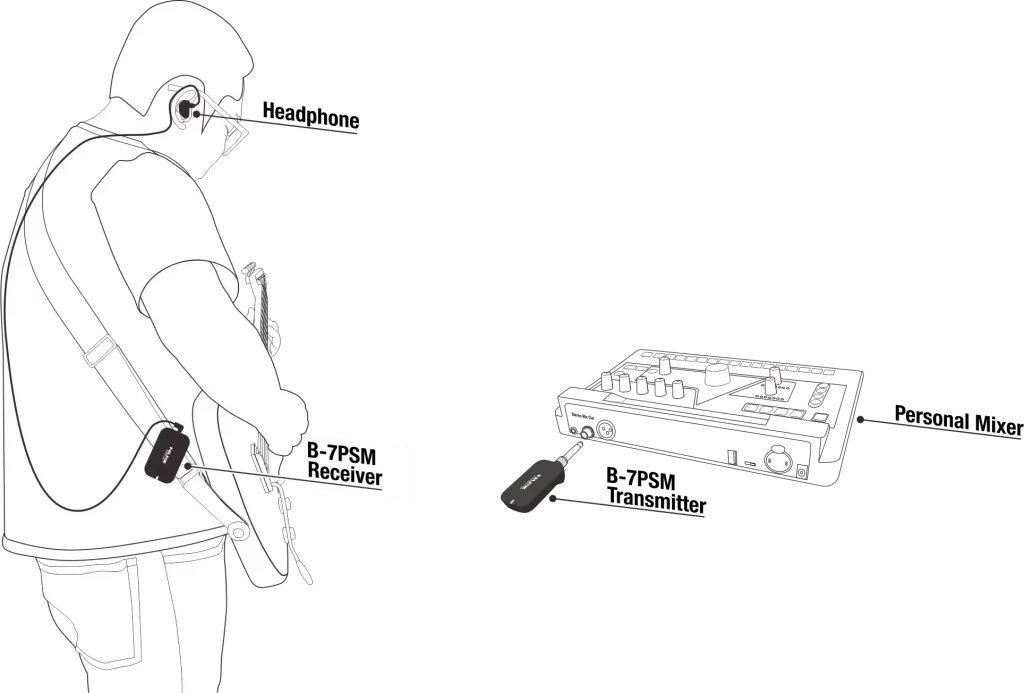 You can charge the RX and TX units with the rechargeable storage case, or by using the USB-C cable to charge. Both units can work while charging just in case.
Output Volume Adjustment

-64dB~0dB (0.5dB step)
Operating Frequency Band

5.8 GHz
Operation Length

< 100 feet (30m) outdoor unobstructed, < 33 feet (10m) outdoor with obstructions
Sampling Rate

24bit / 40 kHz
Frequency Response

20~19kHz
Built-in Battery Capacity (TX & RX)

450mAh / 3.7V
Battery Running Time

> 4 hours
Battery Charging Time

around 1.5 hours
Power Consumption

TX <90mA,RX < 45mA
Maximum Input Level

7.6Vpp (8.6dBV or 2.7Vrms)
RX Suggestion Phone Impedance

16~32Ω
Maximum Output Power

57mWrms (RLOAD =16Ω, 1 kHz)